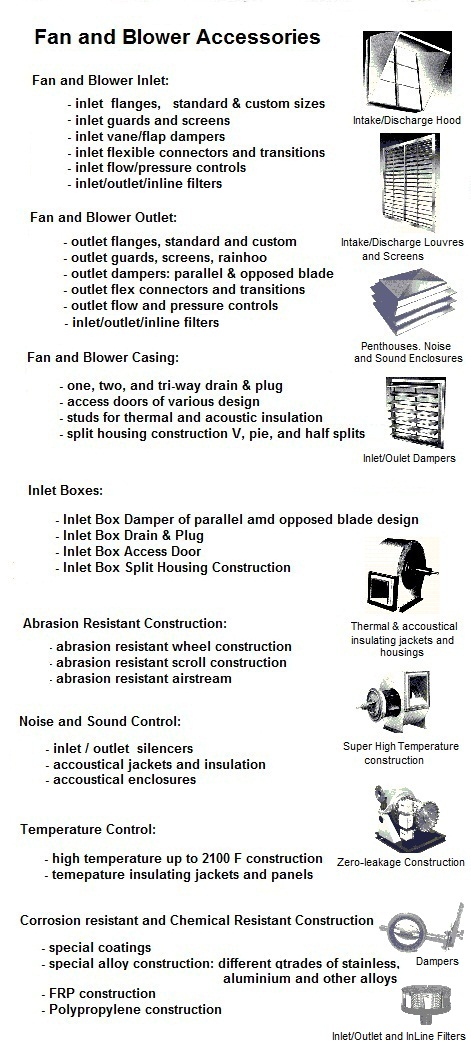 Sales of industrial fans & blowers, high pressure blowers, centrifugal fans, axial ventilators, roow and wall exhaust and supply fans, material handling blowers & radial fans, scroll cage fan ventilators, high temperature fans and blowers, New York Blower, Twin City Fan / Aerovent, Chicago Blower fans, Peerless Fans, Dayton Ventilators, Sheldons fans & blowers, Canarm Leader ventilators, IAP fans, Industrial Air. Large
blowers and ventilators for industrial plants from Buffalo, New York

.

ACCESSORIES
• COMPANION FLANGES
Designed to fit flush with fan inlet and outlet flanges, provided with a matching hole pattern.
• DRAIN
Welded tank flange [NPT], 1 1/2" located at the lowest point in the housing scroll.
• CLEANOUT DOOR
Two types of gasketed door available... bolted: closely spaced studs keep door securely sealed...; raised bolted: allows for insulation when desired, door raised 2" from the fan housing.
• INLET BOX
Minimizes entry losses normally associated with 90 degrees turns at or near fan inlet... also available with parallel-blade damper for efficient volume control.
• SHAFT SEALS
Ceramic-felt shaft seals consisting of compressed ceramic felt elements are standard on Arrangements 1 and 8. Lubricated lip seals [Buna-N, Teflon, and Viton] and gas-purgeable mechanical seals are also available.
• INLET DAMPERS
External vane construction provides pre-spun air effect to control fan performance efficiently... maximum temperature: 800°F.
• VIBRATION ISOLATION
Rubber-in-shear or spring-type isolation mounted to rugged structural unitary base reduces the transmission of vibration to the mounting structure.
• UNITARY BASE
Arrangement 1 fan, motor, and guards can be mounted and shipped on a rugged, structural-steel base. Factory-assembled and run-tested prior to shipment.
• OUTLET DAMPER
Heavy gauge dampers are available for volume control.
• OTHER ACCESSORIES
Also available: drive components such as motors, couplings and V-belt drives as well as a variety of preventive-maintenance products including vibration detectors, bearing-temperature detectors, and zero-speed switches.
• COATINGS
Cost-effective protective coatings under a variety of trade names are available to increase the fan's resistance to adverse, corrosive environments.
• INSULATION STUDS
2-inch long weld-studs located on all surfaces of housing exterior... recommended for use with field installed insulation...studs are normally mild steel; stainless steel and other alloys available on request.
• HEAT-FAN CONSTRUCTION
Standard Arrangement 1 and 8 Surge Limiting PB Fans are designed to handle airstreams to 300°F. Surge Limiting PB Fans handling 301°F to 1200°F airstreams are furnished with shaft cooler and shaft cooler guard, and all surfaces are coated with high temperature paint. Fans are designed for temperatures above 800°F are custom designed per the application's requirements.
• NARROW-WIDTH AND SPECIAL DIAMETER CONSTRUCTION
Wheel widths and diameters can be adjusted to meet volume and pressure requirements at most efficient operating point.
• SPLIT-HOUSING CONSTRUCTION
Provides for wheel and shaft removal... split portion can be removed without disturbing the inlet or outlet connections.