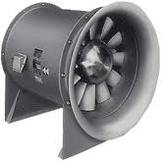 VaneAxial Fans
Chicago Blower VaneAxial Fans for variable volume air handling applications utilize adjustable or controllable pitch high efficiency aerofoil aluminum axial fan wheels to provide optimum performance. CBC variable pitch vaneaxial fans have an internal blade pitch adjustment, which allows to bring variable air volume capability for air conditioning, heating and ventilating applications.

Chicago Blower Design 47 Vane Axial Adjustable Pitch Fans are used in applications where demands vary with system or seasonal change. Fan blade pitch is manually set to increase or decrease performance. Ventilator blades are easily adjustable externally at the hub. Available in compact direct drive fan models.

CBC Design 47 Vaneaxial Fans features include

• Vary volume and pressure by manually resetting ventilator blade angle
• Stable fan air flow over entire performance range
• Compact direct drive configuration
• Horizontal or vertical fan installation
• High Efficiency airfoil bladed fan wheel
• Efficiencies over 80%
• Rugged industrial strength construction
• AMCA Certified for air and sound performance

Spray Booth Design Vaneaxial Fans are available in standard belt drive arrangement 9. These fans are designed for use in spraybooth installations, or in a variety of applications where requirements make it necessary to clean the fan periodically. Standard fan accessories include: inlet / outlet cones, inlet bell, screensfor fan, cone, or bell; belt guard, weather proof motor and drive cover, spark resitant construction with aluminum wheels, or steel wheels with bronze tipped blades; support legs, suspension clips, shaft seals are also available as standard options.
Spark Resistant X-proof fan construction on tubeaxial and vaneaxial fans is available in all aluminum airstream (AMCA A) construction; aluminum wheel (AMCA B) construction; and steel wheel with bronze tipped blades and shaft retainer (AMCA C) construction.
Clamshell Design Vaneaxial Fans are used primarily in applications where ready access to the interior of the fan is desired. The entire bearing assembly can be removed quickly and easily, without removing the fan from the stack. Heavy duty pillow block anti-friction fan bearings with split inner cylinder are standard. Clamshell design vaneaxial fans are avaiable with steel wheels and aluminum wheels.
High temperature ventilator construction: upon request Chicago Blower vaneaxial fans can be furnished with optional high temperature fan construction for oven exhaust, or combusting gases exhaust fan applications.
Corrosion resistant construction and chemical duty construction: for corrosive environment all vaneaxial fans are available in FRP construction, as well as in 304 SS, 316 SS, or 316 L stainless steel construction. Special coatings are optional and selection is made based on the application.

Available Fan Accessories and Options:

• Streamlined spun inlet bells
• Wire guard screens
• Horizontal mounting lugs
• Companion angle rings
• Spool piece
• Vibration monitor switch
• Inlet or outlet cones
• Mounting feet
• Vertical mounting lugs
• Access door in cone
• Casing extension


<>
Design of industrial process and OEM fans, heavy duty process ventilators, baghouse fans, low leakage fans and blowers, fan / blower impellers, airfoil fans, acoustafoil ventilators, unifoil fans, plant ventilation fans, explosion proof building ventilation fans, TCF twin city ventilators, Sheldons engineering blowers, conveying blowers, air tight blowers & fans, industrial process air curtains, OEM fans / blowers, fume exhausters, dust collectors.
Axial fans are the typical household fans we see every day. This type of fan has three or more blades that rotate to allow air to pass through and circulate around a room. Axial fans are operated by electricity to balance the temperature and permit air to flow inside a room.
Industrial ventilators and fans, process pressure blowers, regenerative pressure blowers; industrial; process and commercial heating; ventilating and air-conditioning equipment. Engineering of industrial high pressure blowers and ventilating fans
. High
pressure blowers, commercial fans, high-temperature industrial pressure blowers, Canadian Blower pressure blowers Canadian Blower OEM industrial fans.
OEM industrial and turbo fans and blowers ventilators; high temperature pressure blowers and high temperature plug fans; oven exhaust fan blowers; filtered air make-up fan blowers.

Buffalo Blower manufactures a wide range of fans and blowers for the paper industry. Due to chemical laden air and elevated temperatures associated with the digesting, bleaching, and cooking processes, special materials of construction, such as stainless steel, FRP, and special coatings are required. After the pulp is processed and prepped for the paper production, paper machines utilize our high pressure, high volume fans to provide supply and exhaust air to all stages of production from the wet end to the winding trim systems.
The recycling industry has diversified and matured in recent decades, resulting in its greater demand for high quality air moving equipment. Buffalo Blower fans and blowers are used for delivering the proper air performance for many recycling operations such as material handling and sorting, pneumatic conveying, heating, cooling, aerating, dust collection, and general HVAC. Once sorted, recycling is very similar to the manufacturing of original materials. Glass and metal are crushed, melted down, and purified, then remanufactured into such items as bottles, cans, countertops, and even concrete aggregate. Paper and cardboard are treated in chemical solutions and heated to recover the organic wood fibers to produce new product.With the broadest product range in our industry, Buffalo Blower can supply the equipment needed for the recycle industry's many air moving applications. Our high quality and reliable fans and blowers will do the jobs - from transporting strands of shredded paper to providing circulation in glass ovens. Water treatment involves the removal of contaminants from waste water, sewage, and runoff. The various processes remove physical, chemical, and biological contaminants. These processes are known to be some of the most demanding applications for equipment and that is why water treatment facilities around the world rely on Buffalo Blower. It manufactures a variety of centrifugal and axial fans and blowers with special coatings and special materials such as stainless steel, fiberglass, and carbon fiber to withstand these corrosive environments.
Buffalo Blower has earned a reputation for consistently delivering products that are specifically designed to meet the industry's stringent requirements. Buffalo Blower heavy duty industrial fans are used in numerous petroleum refining, chemical / plastic production, and pelletizing processes and can be customized for virtually every application including flare stacks, thermal oxidizers, heating (fired heaters), combustion air, desulfurization, dryers, pollution control systems, material handling, and steam generation (boilers). Due to the harsh operating environments commonly associated with the many petrochemical processes, Buffalo Blower offers a host of special bearings, disc couplings, mechanical shaft seals, and a wide selection of specialty coatings to comply with the industry's governing and standard organizations such as:
• Air Movement and Control Association (AMCA) – Spark Resistant Construction;
• American Petroleum Institute (API) – Standards 560 & 673;
• American Welding Society (AWS) – D1.1 & D14.6;
• Appareils destinés à être utilisés en ATmosphères Explosives (ATEX) - Equipment Directive 94/9/EC;
• Process Industry Practices (PIP);
• A merican Standards of Mechanical Engineers (ASME).


>