About Us
Chicago Blower Canada is a leading supplier of industrial and commercial fans, ventilators, blowers and accessories for various air-moving fan applications.
Chicago Blower offers a complete line of centrifugal fan equipment, from small Baby Vent Fan Sets capable of moving a few cubic feet per minute (CFM), to large, heavy-duty industrial mechanical draft fans with capacities to 1,000,000 CFM and with static pressures from 0" Water Gauge (WG) to 150" WG.
Chicago Blower products include standard centrifugal fan and customized blowers designed to meet our customers' requirements based on Chicago Blower manufacturing standard.
Over the years Chicago Blower / Canada supplied centrifugal fans to a wide range of industries and applications including: combustion air supply, material handling, process ventilation, ovens and dryers, iron and steel industry, mine and tunnel ventilation, petro-chemical, power generation, marine and off-shore structures, pulp and paper, HVAC, paint / spray booths, fertilizer and various emission control applications. For the commercial HVAC market, Canadian Blower offers general ventilation fans for institutional and retail buildings, schools, restaurants and hospitals. Special materials, construction, explosion-proof and spark-resistant design, variety of coatings and accessories are available to meet practically any application needs.
Chicago Blower fan repair, retrofit and service shop provides complete rebuilds, shaft repairs, blade liners, in-field balancing, vibration analyses, performance upgrade, increased fan capacity, all metallurgies, all type of fans repair, and emergency service on all sizes and designs.
Chicago Blower air moving products are best know for "industrial quality" assuring reliable performance, relentless dependability and longevity. A staff of specially trained engineers will design a dependable fan that exactly fits customers' dimensional and performance requirements.
Chicago Blower fans and blowers are sold and serviced by air moving experts that can evaluate your needs and provide best recommendations for your application.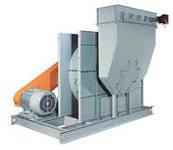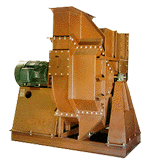 Production of air scrubber blowers, fume collector fans, positive displacement blowers, Aeroven Blowers, Twin City, NYB fans, blowers & fans repair and rebuild, Lau fans, plug fans ventilators, sheldons fans blowers, cooling fans, FRP ventilators, industrial mancoolers, Cincinnati fans / blowers, air polution control ventilators, blowers and fan exhaust systems, air make-up fans, air knife pressure blowers, high pressure blowoff fans, burner blowers, combustion process fans, conveyor blow-off fans, air canon fans, dust collector blowers, finishing systems fans, fan exhausters, fume exhaust ventilators, furnace fan blowers, incinerator fans. Centrifugal blowers come in a number of forms of which the most common is the squirrel cage blower. The common factor is the air is moving perpendicular to the axis of the part that is moving the air. Typically, the air is drawn in through the side of the unit, turns at low speed to encounter the inside of a spinning cylinder with ribs or vanes around the wall of the cylinder which fling the air out and away where it is captured and aimed through an outlet much smaller than the inlet. Think of taking an open tin can, drilling a hole in the center of the bottom to take a bolt as an axle and cutting slots up the sides, bending the material of the slots in, then spinning it with a drill. A variation looks like a plate with ribs running from the center and increasing in height toward the rim, the air being thrown off the rim. The name squirrel cage comes from the appearance like the tread wheel small rodents use for exercise - I suspect it is not called a hamster tread wheel because that is too precise - or childish. Blowers can have higher output pressures, but not a lot higher and they lose capacity rapidly with increasing pressure. In centrifugal fan, as opposed to axial flow fan, the air is moving perpendicularly to the fan shaft. Often called a "squirrel cage" (due to its similarity in appearance to exercise wheels for pet rodents), the centrifugal fan has a moving component (called an impeller) that consists of a central shaft about which a set of blades, or ribs, are positioned. Centrifugal fans blow air at right angles to the intake of the fan, and spin the air outwards to the outlet (by deflection and centrifugal force). The impeller rotates, causing air to enter the fan near the shaft and move perpendicularly from the shaft to the opening in the scroll-shaped fan casing. A centrifugal fan produces more pressure for a given air volume, and is used where this is desirable such as in leaf blowers, hair driers, air mattress inflators, inflatable structures, and various industrial purposes. They are typically noisier than comparable axial fans. A mixed flow fan is an air moving device in between axial flow fan and centrifugal fan. Mixed Flow fans are an excellent choice for return air, supply, or general ventilation applications where low sound is critical. As compared to similarly sized tubular centrifugals and vane axials, a mixed flow fan will be 5-20 dB quieter! In addition, the mixed flow wheel is extremely efficient and will cut down on operating expenses.
Caution is necessary in selecting blowers for series installtion. It is generally accepted that most pre-engineered blowers are capable of withstanding twice their catalog rated static pressure.