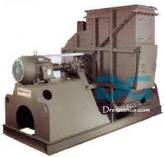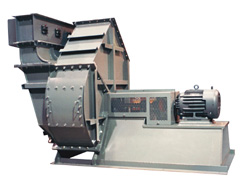 Industrial Radial Blowers
Chicago Blower Radial Fans (industrial radial blade blowers) are supplied in welded heavy gauge steel construction to prevent flexing at high pressure. Available in direct drive fan arrangements 4/4V/4H/7/8 and belt drive ventilator arrangements 1/3/9/9S/9T.9H. Available in single width single inlet (SWSI) fan, or double width double inlet (DWDI) fan. Capacities: to 500,000 CFM. Static pressure up to 100 inches water gauge depending on the class of construction. Typical class of construction is Class 1, 2, 3, 4, 5.
Aluminum wheel, Steel wheel, or Alloy wheels are available: industrial radial blowers and fans are supplied with aluminum wheel or corten wheel to meet requirements of AMCA A, and AMCA B spark resistant construction. Mild steel wheels are of all welded construction. They are used on pressure applications, material handling applications (plastic scrap, paper trim, granular material, low density bulk material) where wheel is reinforced with support gussets, or made of abraision resistant construction, or furnished of high strenght steel. Stainless steel fan wheel in 304 SS, 316 SS, 316 SS, 2205 SS are supplied for corrosive applications, or high temeparature blower applications. The fan pressure curve remains stable from fully open to fully closed position.

Heat fan construction up to 1500 F: includes high temperature paint (up to 1000 F), special alloy construction, shaft cooler, shaft-cooler guard, and steel wheel, or alloy wheel, with steel, or alloy housing.
Shaft seal and low leakage fan construction can be furnished: shafting is straightened to close tolerance to minimize "run-out" and ensure smooth operation. Teflon shaft seal, ceramic shaft seal and lubricated shaft seals (Buna, Teflon, Viton) are standard. Red silicone gasketing is provided for low leakage construction and for high temperature construction. Heavy-duty spherical roller bearings are standard.

Cladding for sound attenuation and silencers can be provided: cladding consists of 2 inches mineral-wool insulation covered with a welded steel jacket. As an inexpensive alternative is offered slide-on acoustic cloth jackets. Inlet silencer/outlet silencer are supplied with matching flanges for further attenuation of the noise level.
Standard fan accessories include:flash / raised access door, inspection port, drain and plug, unitary base, shaft and bearing guard, belt guard, motor cover, spring vibration isolation, rubber-in-share (RIS) vibration isolation, vibrating pads, outlet damper, inlet vane damper, external inlet vane damper, evase, electrical / pneumatic actuators.


Engineering of Twin City Aerovent fans, CBC Chicago Blower fans, Acme fan ventilators, New York Blower, ILG American Coolair fans, fans for building ventilation, industrial high temperature oven fans, furnace blowers, leader ventilators, Delhi fans, negative pressure ventilators, USA industrial fas blowers, explosion proof pressure blowers, blower air knives, high temperature pressure blowers. Though the fan manufactures design fans on the basis of different needs, but some of the design parts are common. Ducted fans usually have an odd number of blades to prevent resonance in the duct. In the design of these fans, temperature is another factor where they have to be built and used. Due to more and shorter blades, aircraft fans operate at higher rotational speed. Advantages of duct fans this fan operates more efficiently at higher air speeds make them special. Through the fan, its designer can adjust the air velocity. Some other advantages are that ducted fans do not make much noise, allows a limited amount of thrust vectoring and offer enhanced safety on the ground. Emergency Duty Purge Up-Blast Ventilators incorporate elements of sealed and high-temp. consturuction for emergency fume and smoke exhaust. Severe duty process and OEM blowers, Canadian Blower custom built fans, ventilators, dust collectors, combustion pressure blowers.