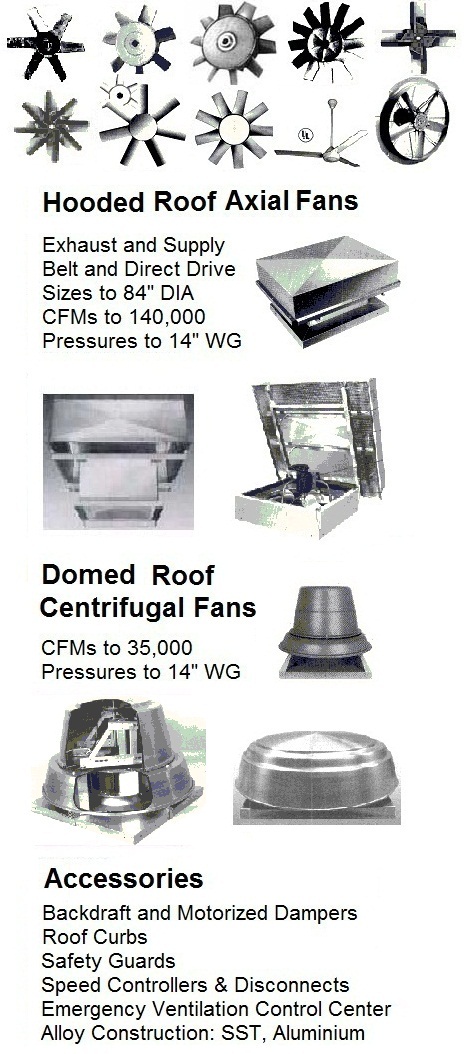 Canada Blower is a leading North American supplier of industrial ventilation equipment: all types of industrial process and OEM blowers, general building ventilation fans, mancooler ventilators. We are experts in industrial process air and gas moving and heat transfer equipment. Canada Blower specializes in high temperature industrial oven and furnace circulating fans: heavy-duty plug fans and high temperature air kits; combustion pressure blowers, pneumatic conveying fans and vacuum blowers, dust collection and fume extraction fans, severe duty material conveying blowers with paddle wheels, building ventilation wall and roof exhaust and air supply ventilators, fans for air make-up air-handling units, industrialheated and non-heated air curtains and environmental air barriers, industrial process air knives, air canons and blow-off air systems for industrial process colling and liquids blowoff, corrosion resistant and chemical resistant fans for chemical, food, gas and petro chemical industries, spark-resistant fans and explosion proof ventilators, industrial flue gas exhaust fans and emission controlblowers, energy recovery ventilators, air-make-up airhandling units, industrial precess heating and cooling equipment, heat transfer fans and energy recovery ventilators, industrial process and general air-handling heat exchangers, finned coild for cooling and heating, power steam humidifiers. Canada Blower is a North American distributor of industrial OEM fans, blowers, ventilators, as well as fan components: blower impellers, high temperature fan wheels, ventilator blades, fan housings, fan shaft and bearings coolers; super high temperature furnace fans, super high pressure gas and air transfer blowers, dust collector and fume extractor fan components, industrial vacuum systems blowers, high air velocity and high pressure air knives, fume and gas wet scrubber high pressure blowers, positive-displacement / multi-stage / side channel regenerative pressure blowers, large building air circulation fans, duct ventilators, inline axial fans, centrifugal blowers with various wheel designs.
Replacement Twin City Fans / TCF blowers and Aerovent ventilators, Chicago Blower fans, industrial pedestal ventilators, in line fans, confined space fans, in-line exhaust blowers, radial blade fans, paddle wheel ventilators, hvac blowers, high temperature pressure blowers, fiberglass ventilators, stainless steel fan blowers, material handling radial blowers, blowoff fans, direct drive blowers, belt drive fans, air vent fans. Different models of fans are available in the market in various unique designs, integrated with the latest technologies and low power consumption facilities.

Canada Blower FRP axial fans use an an aerodynamic drive housing to protect fan shafts, bearings and drive components from hazardous corrosives. They are designed for ventilation and industrial process applications where corrosive fumes may present in the air stream and / or surrounding atmosphere. All fan parts exposed to the airstreams are constructed of high-quality, corrosion-resistant fiberglass reinforced plastic. Harmful fumes are blocked from the shaft opening by a labyrynth grease seal.

High efficiency and low cost characterize Canada Blower ABD Fiberglass Tube Axial Fan designed for either horizontal or vertical exhaust systems. With 8 sizes from 18" to 60" diameter, volumes to 70,000 CFM and static pressures to 3" WC. A unique direct drive ADD-FRP bifurcator tubeaxial fan has its motor mounted inside a protective enclosure.

Two series of CBC FRP corrosion resistant roof exhausters fulfil most every installation and application requirement. In addition, specially formulated FRP resins can be applied to combat specific corrosives, such as organic chemicals. The innovative inline FRP centrifugal fans series combines the efficiency and reliability of the centrifugal fan with the low cost of tubeaxial fan. Precisely engineered conical inlet assures a smooth airflow to the impeller. Fan sizes from 6" to 36" inlet diameter offer capacities to 15,000 CFM and 2.5" WG static pressure.
Acid resistant blowers, agitation and aeration FRP and Propylene blowers, blower filter units, blower filters, blower repair and rebuild, Barron, fan and blower balancing, fan and blower wheels and impellers, air jet blowers and systems, axial blowers.