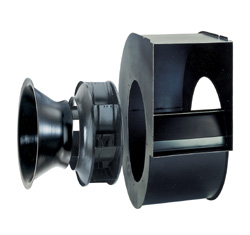 CHICAGO BLOWER OEM FANS AND AIR KITS

Chicago Blower Airfoil Fan Kits
provide the user with the flexibility to custom build a fan from individual components to meet their specific air performance and configuration requirements. With its airfoil blade wheel, the Fan Air Kit is efficient, economical and versatile. Among the components offered are airfoil fan wheels, inlet cones with or without integral vanes, housings and shaft coolers, as well as shafts and bearings.
Any supply air or clean exhaust application is ideal for
Chicago Blower Airfoil Fan Kit
. The Fan Kits fill most general industrial and commercial air moving needs, including installations handling lint dust, fumes or moisture. Plug fan applications include ovens, dryers and kilns as well as penthouses, plenums and panel walls.
Features CBC Airfoil Fan Air-Kits:
• Aerodynamic airfoil fan wheels feature hollow blades with weep holes to prevent moisture retention
• Standard and RA design for lower pressures ventilators
• Inlet Volume Controls are ideal for variable volume fan systems
• Fan shafts and bearings also available
Chicago Blower Airfoil SQA Plug Fans
are designed for easy mounting in ovens, dryers, kilns, and can be installed in penthouses, panel walls, ceilings, floors...just cut a hole large enough for the fan shaft and install.
Operating Range of CBC SQA Plug fans:
Maximum CFM: 48,000
Maximum Static Pressure: 13" wg
Maximum Temperature: 800°
Fan Sizes: 12-1/4" to 44-1/2"
Features of CBC SQA Plug fans:
• Unhoused fan wheel installs inside the oven with the drive panel on the outside
• Stable air flow over entire performance range
• Large flush mounting panels minimize panel wall loading
Chicago Blower Direct Drive Airfoil Plug Fan
offers a compact economical alternative to belt drive plug fans. Applications include packaged equipment for cooling, drying, dust collection, recirculation and aeration systems. For retrofit installations, the compact direct drive configuration allows greater system flexibility. When coupled with a variable frequency drive, performance is no longer limited to synchronous motor speeds. Direct drive simplicity converts to lower initial cost and less operating expense, as there are no fan shafts, bearings, belts or guards to maintain. Plug fans utilize Chicago's quiet, efficient airfoil wheel with hyperbolic inlet cone. Exceptional rigidity is afforded by the heavy steel panel with flanged edges and gusseted motor base. Plug fans are designed for horizontal or vertical installation.
Operating Range of CBC DD Airfoil Plug Fans:
Maximum CFM: 26,000
Maximum Static Pressure: 12" wg
Maximum Temperature: 180°
Fan Sizes: 12-1/4" to 30"
Features of CBC DD Airfoil Plug Fans:
• Unhoused plug ventilator wheel installs inside unit with the drive panel on the outside
• Stable fan air flow over entire performance range
• Large flush mounting panels minimize fan panel wall loading















Manufacturer of I.D. blowers, F.D. blowers, force draft fans, force draft blowers, blow off ventilators / fans, PVC FRP SST ventilators, squirrel cage blower fans, high pressure centrifugal ventilators, Chicago blowers, aluminum fans, stainless steel ventilators, hot air blowers, heating fans, high temperature oven ventilators, high pressure air blowers, squirrel cage blower wheels, Peerless Dayton ventilators, Sheldons blowers, New York fans NYB, TCF, Delhi fans blowers.
Industrial blowers, OEM fans, high temperature ventilators, high pressure blowers and high temperature ventilator fans, industrial OEM fans, roof and wall fan exhausters.
Power Tube Fan make-up air system reperesnts very effective way to bring in fresh air from outside and distribute it in the plant:

- Six different sizes available;
- Solves fresh air problem by providing make-up air;
- Saves money by reclaiming wasted building heat;
- Comes with reinforced fire-retardant polyethylene air distribution tube;
- Mixes cold outside air with warm inside airnear the plant seiling before it reaches floor level;
- Specially designed and spaced discharge holes produce high velocity turbulent jets of air which ensures outside air tempering at short distance.

TYPICAL INSTALLATIONS:

- The most standard installation features outside wall intake with motorized intake damper and intake weather hood;
- Alternative installation includes roof intake & air plenum;
- Various accessories available, such as: motorized shutter, weather hood, opposed-blade face & bypass damper with modulating motor, birs screen.