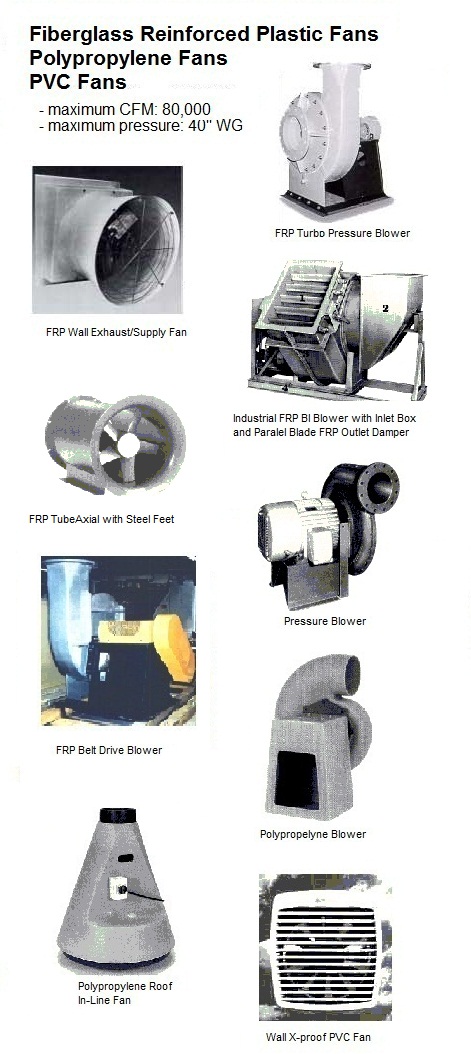 Stock of tubeaxial & vaneaxial inline duct fans, blower and fan repair / balancing, replacement centrifugal and axial fan blades, axial duct fans, aluminum pressure blowers, FRP ventilators, dust collectors blowers fans, dust collection fan ventilators, high temperature oven circulation fans, explosion proof ventilatoprs, spark reistant fans and blowers, induce & force draft fans, fan blower impellers.
Distribution of industrial high temperature fan blowers. Suppliers of Buffalo Blower industrial; process and commercial heating; ventilating and air handlers

.

Canada Blower FRP Pressure Blowers are rotatable and fabricated of polyester resin based FRP, while wheels are made of vinyl ester resin FRP to allow for more strength. 316 stainless steel, or Hastelloy C-276 alloy wheel and shaft assemblies are available. FRP ORB self-cleaning wheel design and FRP Pressure Blower wheel design are used depending on application. Standard fan shafts are made of C-1040 / 1045 steel covered with FRP sleeve. 316 stainless steel shafts are optional. Fan inlet / outlet flange drilling is according to ANSI 125 / 150 bolt pattern, or Voluntary Product Standard PS15-69. Neoprene gasketing with Teflon Shaft Seal, or Viton seal element in FRP casing is provided where low leakage is desired.

Industrial high temperature oven circulating fan and high temperature exhaust ventilators. Sales of centrifugal and axial super high temperature plug fans and air kits. Replacement high temperature fan and blower wheel blades.