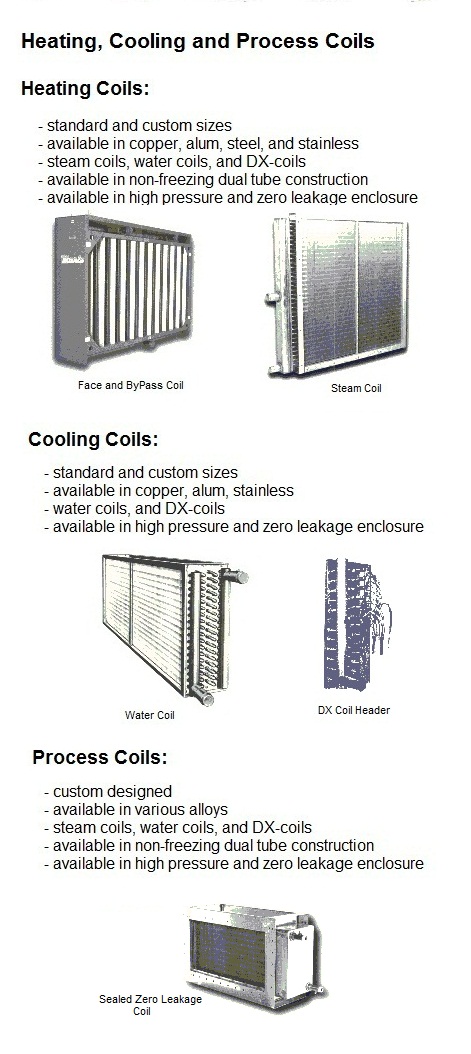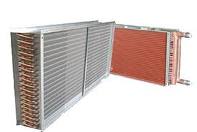 Evaporator Coils

Canada Blower designs and manufactures a variety style of Evaporator coils to fit your refrigeration needs. Each coil is designed for your specific refrigerant and application and can be built to a variety of different styles including Single and Multi-circuited designs, such as Face or Interlaced control.

Canada Blower Evaporator Coils

Copper tube aluminum fin evaporator designed for face split control on dual circuited refrigeration applications.

Canada Blower Refrigerant Coils with Hot Gas Bypass

Canada Blower 's vast Engineering expertise combined with custom Manufacturing abilities allow the manufacturing of virtually any project requiring heat transfer products. This unique application required moisture to be frozen out of the airstream with the ability to melt down and...

Stainless Steel Evaporator Coils

Canada Blower Stainless Steel tube construction when needed for harsher enviroments or for industrial refrigeration.

Aeromix Coils

Aeromix coils feature Face and Bypass design. Because the leaving air temperature from the Aeromix® is controlled by directing the airflow across or around the finned tubes, modulation of the steam or fluid is not necessary. This feature maintains adequate steam pressure or fluid velocity for prevention of freeze-up. The Aeromix® provides even air temperature and constant air volume with minimal temperature override. Typical applications include HVAC air preheat, institutional air make-up and roof-mounted penthouse make-up air. This coil type falls within the scope of ARI Standard 410 Certified Ratings.

There are two distinct Aeromix coil types available, most easily differentiated by the tube orientation.

Aero Damper Fully Open: water coil with a face and bypass design, directing the airflow across or around the finned tubes. Steam coil with a face and bypass design, directing the airflow across or around the finned tubes.

Aeromix coils can be fully coated with protective coatings.

Nuclear

Canada Blower is an experienced, qualified source for nuclear components. Manufacturing products for the industry since 1966, Canada Blower has manufactured coils for nuclear power plants around the world:

ASME-NPT Stamped External Frames

Dual water coils with copper tube, copper spiral fin and stainless steel headers designed to be removed from an NPT stamped stainess steel frame.

Nuclear Coil with Removable Header

Removable stainless steel headers on both ends of the coil, constructed with copper tube and copper plate fins.

Canada Blower Nuclear Cooling Coil

Copper spiral fin and stainless steel headers with welded joint construction.

Canada Blower Shell & tube heat exchanger with copper-nickel tubes and carbon steel shell coated on the interior, built for the nuclear industry.

Canada Blower heat exchangers serve a variety of industries including HVAC, fossil fuel power generation, nuclear power generation, industrial process, pulp and paper, automotive, and petrochemical:

Integral Reheat Coils

Chilled water cooling coils designed to dehumidify as well as cool air.

Steam Distributing Coils

Steam Distributing (non-freeze) coils designed with tube in a tube construction.

Evaporator Coils

Copper tube and Aluminum fin evaporator designed for face split control on dual circuited refrigeration applications.

Aeromix Face & Bypass Coils

Hot water or steam preheat coils with bypass dampers in both vertical and horizontal designs.

COMMERCIAL / REPLACEMENT HEAT EXCHANGE COILS

Split-Fit Coil

Cooling coil with modular construction allowing easy installation in tight spaces, with Copper fin, Copper-Nickel tubes, and Copper-Nickel headers.

Flex Steam Coil

Steam coils designed with independent, curved tubes allowing the coil to expand and contract internally, accounting for thermal expansion while maintaining connection locations.

Spiral Fin Water Coil

Water coil constructed with Copper tube and spiral fin allowing for variable tube spacing

https://plus.google.com/+Buffalofanblower
http://www.canadafans.com/fans-blowers-blog/2017/07/28/industrial-fans-types/
http://www.northernindustrialsupplycompany.com/radial-blade-belt-drive-blowers.php
http://www.canadablower.com/ebook/Tab%206.html

https://plus.google.com/+Buffalofan
http://www.canadafans.com/fans-blowers-blog/2017/07/
http://www.northernindustrialsupplycompany.com/belt-drive-propeller-fans.php
http://www.canadablower.com/ebook/Tab%207.html

https://plus.google.com/+AmericanblowerNet
http://www.canadafans.com/fans-blowers-blog/2017/06/
http://www.northernindustrialsupplycompany.com/contact-us.php
http://www.canadablower.com/ebook/Tab%208.html

http://canadafans.com/industrial-fans-blowers.php
http://northernindustrialsupplycompany.com/index.php
http://olegsystems.com/airfoil-fans/
http://canadablower.com/about-us-2/
Canada Blower Company is a Distributor of industrial process and commerical ventilation equipment. Canada Blower fans are known for the highest industrial duty quality and reliability for many years across North America.

Heat transfer finned coils for a variety of applications. We will build a coil to your design or you can tell us your requirement and we will design it using our computerized coil selection programs.

We specialize in rapid delivery of replacement coils.

TYPES OF COILS :

Fluid (Cooling & Heating) Coils
Chilled or hot water / glycol coils suited to a wide variety of applications - from commercial HVAC to industrial preocesses.

Steam Coils
Constructed with heavy wall copper tubing

Evaporator Coils
Induvudually designed to optimize performance on air conditioning or high to medium temperature refrigeration applications.

Condencer / Heat Reclaim Coils
Designed to handle your condencing or heat reclaim requirements.

Special Coils
For your special applications or a "one-of-a-kind" replacement.

COILS SPECIFICATIONS

Fins
Corrugated, die formed tempered aluminum. Various fin spacings available.

Coil Tubes
1/2" OD x 0.018" or 0.028" wall; or 5/8" OD x 0.020" wall seamless copper tubing.

Headers
Heavy wall seamless copper tubing - sozed to the application or to match an existing coil.

Casings
18 gauge G90 galvanized steel; configured to each application.

CANADA BLOWER is a well-known supplier of heat transfer coils for a variety of applications. Canada Blower will build a coil to your design or you can tell us your requirement and we'll design it using our computer coil selection programs.

Canada Blower specializes in rapid delivery of replacement coils.

TYPES OF CANADA BLOWER COILS :

Canada Blower Fluid (Cooling & Heating) Coils: Chilled or hot water / glycol coils suited to a wide variety of applications - from commercial HVAC to industrial preocesses.

Canada Blower Steam Coils: Constructed with heavy wall copper tubing

Canada Blower Evaporator Coils: Induvudually designed to optimize performance on air conditioning or high to medium temperature refrigeration applications.

Canada Blower Condencer / Heat Reclaim Coils: Designed to handle your condencing or heat reclaim requirements.

Special Coils: Canada Blower coils for your special applications or a "one-of-a-kind" replacement.

Canada Blower makes heating and cooling coils for a vatirty of applications including:

- Hot Water / Chilled Water Coils
- Glycol Heating / Cooling Coils
- Steam Coils
- Evaporator (DX) Coils
- Condenser / Heat Reclaim Coils
- "Run-Around" System Heat Reclaim Coils
- "Special" Coils